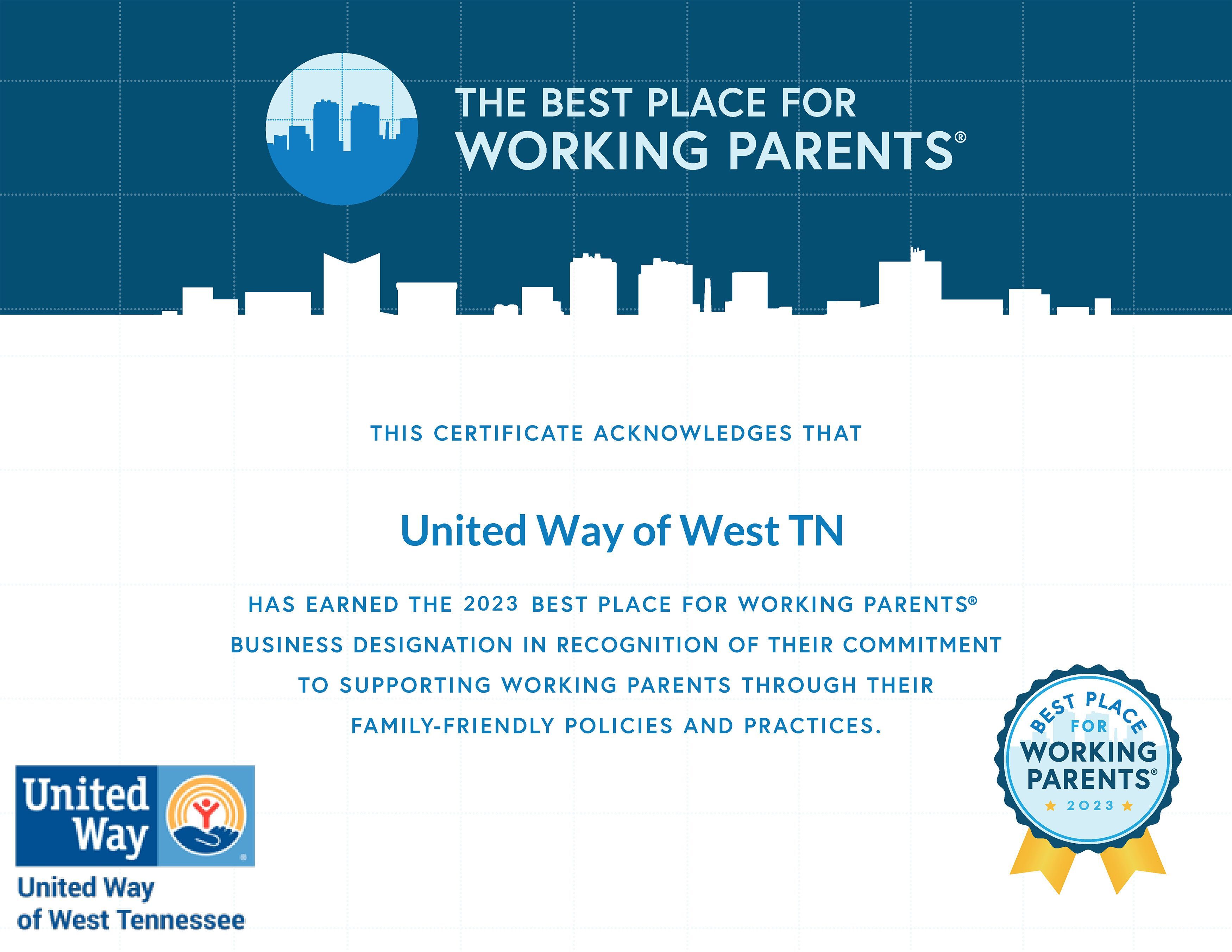 United Way of West Tennessee has been named a 2023 Best Place for Working Parents — one of the first employers in Madison County, alongside fellow nonprofits WRAP and the STAR Center.
"We are thrilled to receive this recognition and lead the way in making West Tennessee the best place to raise a family" said Matt Marshall, President/CEO. "As we invest in our community's children and families, family-friendly policies are ways we can do this."
The Best Place for Working Parents is a growing national network of business leaders that promotes family-friendly policies as a best practice for businesses. The network uses a confidential online business self-assessment that allows companies of all sizes to tout innovative practices that help working parents provide for their families and thrive at work. The Best Place for Working Parents® assessment highlights only the top 10 research-backed policies proven to benefit working parents and businesses' bottom line.
While family-friendly policies have a direct impact on working parents, local, and national research proves the importance of family-friendly workplaces:
· 83% of millennials would leave a job for one with stronger family-friendly supports.
· Employee replacement costs an employer six to nine months of an employee's salary.
· Over 60% of working parents have missed work due to child care issues.
· Employers lose $13 billion annually due to child care challenges within the workforce.
"This recognition as a Best Place for Working Parents aligns with our commitment to support families across West Tennessee, both through our Shared Services Network and our Bright Start initiative," said Olivia Abernathy, United Way's Senior Director for their Office of Childhood Success. "These programs, which emphasize early childhood development and community collaboration, help cultivate a work environment that understands and supports the needs of working parents. We are proud to model family-friendly practices and encourage other organizations to join us in making this commitment."