Carroll & Henry Counties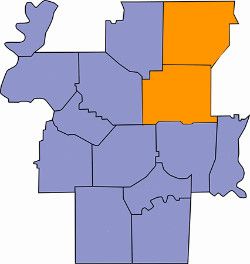 Carroll County ran their first-ever campaign in 1990, and since that time has gone on to raise over $1.7 Million. In 2009 Henry county was added to establish a Region. Each County raises and invests their own dollars but they work together through one local Advisory Board.
We are dependent on over 25 companies, organizations and government entities that run annual campaigns with their employees to raise funds. With these companies and other individuals that give directly we have over 350 people that annually give to the campaign. It is because of this generosity that we are able to reach out and lift up the Carroll and Henry communities through local programs that are getting amazing results and making a positive impact on the needs of our neighbors, co-workers and family members.
---
Local Board Members
Nathan Smothers (Board Chair) - Huntingdon Insurance Agency
Thomas Butler (Campaign Chair) - Evercore Healthcare Solutions
Jimmy Crossett (Community Impact Chair) - Noranda
LaRenda Scarbrough (Secretary) - RE/MAX Cornerstone Real Estate
Thomas Aljancic
Paula Atkins
Clint Butler - Carroll Bank & Trust
Melody Heyduck - Baptist Memorial Hospital
Mayor Jill Holland - City of McKenzie
Dianna Lankford - Manpower of West Tennessee
Mayor Kenny McBride - Carroll County
Nina Smother - Baptist Memorial Hospital
Lauren Walker - Noranda
Walter Winchester - NWTN Development District Office on Aging & Disability
---
Local Partner Agencies
American Red Cross - Mid West TN Chapter
Single Family Disaster Relief
Carl Perkins Child Abuse Center
Relative Caregiver
Child Advocacy
Carroll Academy
Day Services
Carroll County Books from Birth
Books for Kids
McKenzie Carroll United Neighbors
Emergency Assistance
Office on Aging
Meals on Wheels
REAL Hope Youth Center
Day Services
Tennessee Rehabilitation Center at Camden
Work Adjustment Training
Therapy & Learning Center
Pediatric Therapy Services
WRAP
JARS (Justice, Autonomy, Restoration, Safety)
---
Local Supporters
AT&T TennesseeBaptist Memorial Hospital
Carroll Bank & Trust
Carroll County Employees
Carroll County State Employees
City of McKenzie
Colorite/Precision Porous Pipe
CSI
Dana Holding Corporation
E.W. James & Sons Supermarkets
Enterprise Rent A Car
Espey Oil Company
First Bank
Life Care of Bruceton/Hollow-Rock
Lowe's
Manpower
McKenzie Medical Center
McKenzie Special School District
McKenzie-Carroll County United Neighbors
Regions Bank
United Parcel Service
Wal-Mart