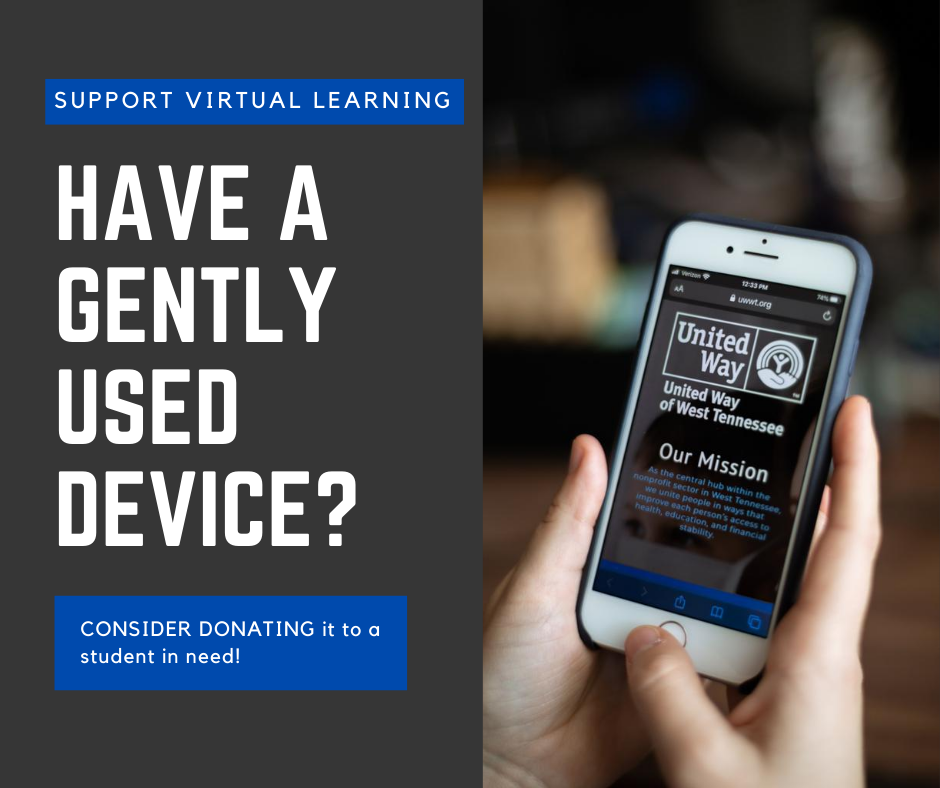 United Way of West Tennessee is hosting a drive from Sept. 14 through Sept. 25. and is accepting gently used devices for students in school districts around West Tennessee who lack access to virtual classrooms. 
Several of the school districts around West TN have opted for distance learning instead of bringing students back into traditional classrooms.  While this is undoubtedly a safer option, it also poses other challenges to overcome. United Way recently provided 212 T-Mobile Hotspot devices to Jackson-Madison County School System for families in need of internet connectivity.  And, they are now promoting a drive to help with other devices. 
"COVID-19 continues to impact our everyday lives, forcing us to become creative in the way we combat the obstacles it has presented," stated Matt Marshall, President/CEO of United Way of West Tennessee. 
"As students in many of our school systems take part in distance learning, many do so without a device to access virtual classrooms.  We are asking those in the community who can, to consider donating their gently used devices so that access might be provided to those with the greatest need."
Donations of gently used tablets, iPads, or smartphones may be dropped off at the following locations in West TN:
United Way of West Tennessee's office at 470 N Parkway, Jackson, TN 38301
RIFA, 133 Airways Blvd., Jackson, TN 38301
Jesus Cares, 120 West Court Avenue, Selmer, TN 38375
Matthew 25:40, 432 West Court Street, Dyersburg, TN 38024
Milan Mustard Seed, 2027 S 2nd Street, Milan, TN 38358
UT Martin – Parsons Center, 975 Tennessee Ave N, Parsons, TN, 38363
WE CARE Ministries, 530 N Lindell St, Martin, TN 38237
McKenzie-Carroll County United Neighbors, 2455 Cedar St, McKenzie, TN 38201
Established in 1941, United Way of West Tennessee is a nonprofit organization in Jackson, Tenn. that serves to unite communities through partnership with local agencies to improve every person's access to health, education, and financial stability.  United Way of West Tennessee is proud to serve 14 counties in West Tennessee: Carroll, Chester, Crockett, Decatur, Dyer, Gibson, Hardeman, Haywood, Henderson, Henry, Lake, Madison, McNairy, and Weakley.