A Letter from Our Board Chair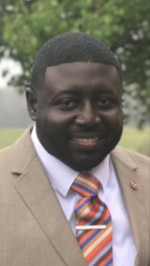 I am very honored to serve as the chairman of this year's United Way of West Tennessee board. 
Here in West Tennessee, United Way continues to be a driving force - investing in the most effective local programs that specifically address the needs in our communities. We partner with 79 agencies and 108 programs to produce real results in the areas of education, financial stability, and health. We unite donors and volunteers with organizations to ensure that every dollar raised makes the greatest possible difference. 
I have been fortunate to be in leadership meetings throughout this region, and I continue to see and hear how our donors' gifts are making a difference in West Tennessee. 

Thank you for supporting United Way of West Tennessee's annual campaign. We have one life. To live better, we must Live United. 

Sincerely,
Gem Bell
Teknor Apex Tennessee Company
United Way of West Tennessee Board of Directors
EXECUTIVE COMMITTEE
Gem Bell, Chairman
Teknor Apex Tennessee Company
Stuart Hirstein, Chair-Elect
University School of Jackson
Doug Roth, Endowmen Vice-Chair
BancorpSouth
Bruce Niven, Campaign Vice-Chair
ARJ 
Dr. Kelli Deere, Finance Vice-Chair
UT Martin Parsons Center 
Leigh Anne Bentley, Community Impact Vice-Chair
Leaders Credit Union 
Judy Long, Past Chair
First Citizens National Bank
BOARD MEMBERS
Jeff Agee
First Citizens National Bank 
Louis Amirault
Teknor Apex Tennessee Company 
Joseph Butler
Savant Learning Systems, Bethel University
Jake Bynum
Weakley County Mayor
Reba Celsor
Tennova Dyersburg Regional Hospital 
Charley Deal
UT Martin 
Dr. Versie Hamlett
Humboldt City Schools
Stuart Hirstein
University School of Jackson 
Greg Jackson
Kellogg
Dr. Eric Jones
Jackson-Madison County School System
Tammy Knight
General Electric 
Mike Overbey
Central Distributors 
Bill Rawls
Mayor, City of Brownsville
Nathan Smothers
Huntingdon Insurance Agency
Aaron Tiede
Nordyne
Braxton Williams
Jackson Energy Authority
---
United Way Staff