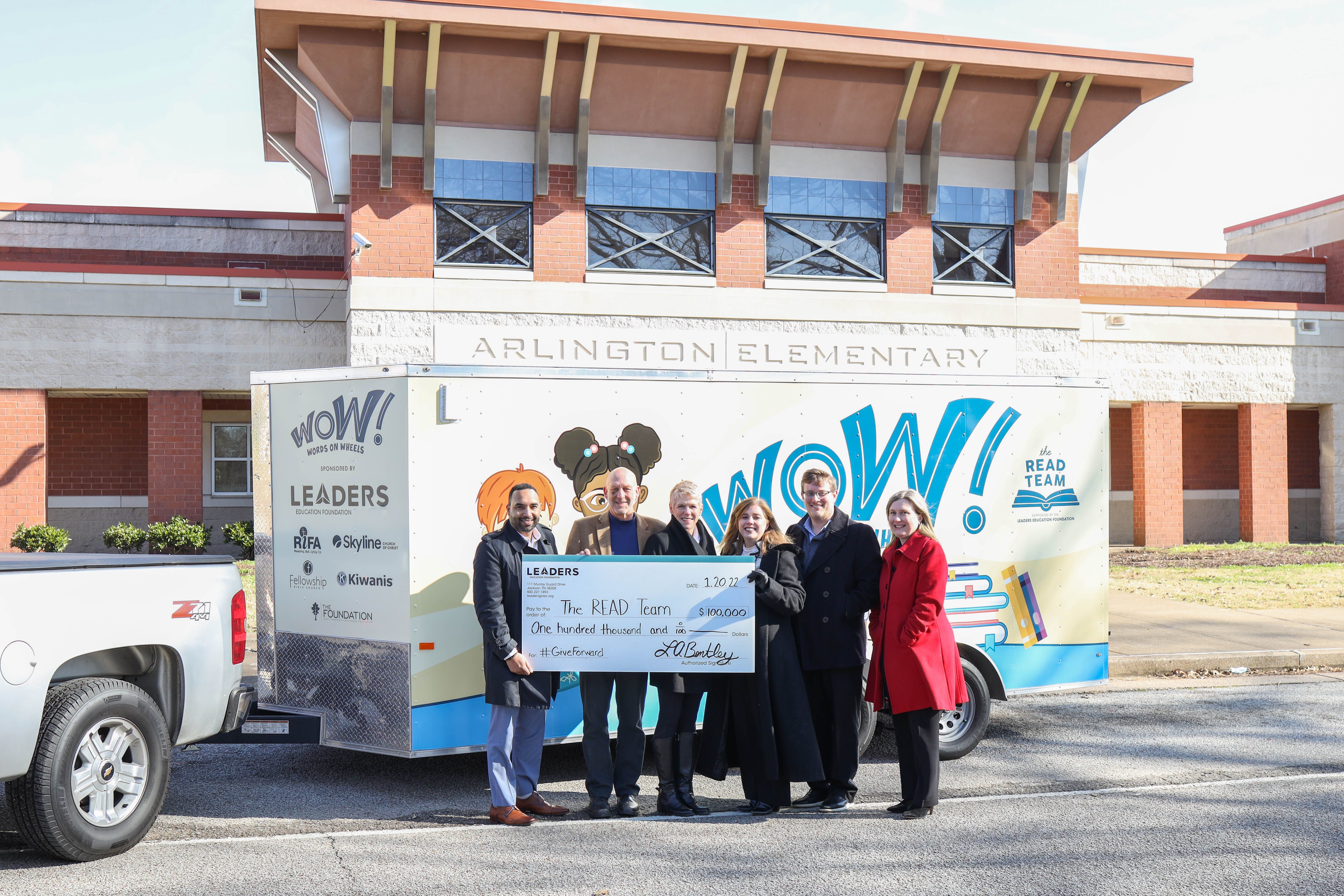 Leaders Education Foundation, a non-profit 501c3, is thrilled to pledge $100,000 to The READ Team, a program of United Way of West Tennessee. The READ Team was formed in 2014 under the name ARISE2READ Jackson Madison County and served six Jackson-Madison County elementary schools. On April 8, 2021, The READ Team joined the United Way of West TN as a United Way Education initiative program. The READ Team allows volunteers to partner with students during school hours and under school staff supervision to assist students with reading initiatives for one hour per week.
The READ Team is 98 percent volunteer-driven, with 146 volunteer coaches currently trained and active. The commitment and money donated by Leaders Education Foundation will span over five years and will cover the cost of materials and resources needed in the schools and with training initiatives for the volunteers. It will also help expand the program throughout West Tennessee.
"Volunteers are needed. The pandemic has caused a greater need for volunteer coaches and now more than ever, the students need us to get them back on course," noted James Christoferson, program director. "It is because of our partnership with United Way, Leaders Education Foundation and most importantly, our community volunteers that we are able to 'Change our Community One Word at Time'."
"Reading at an early age is foundational for students' success throughout their lives. We are honored to bring these educational resources to students in West Tennessee," said Leigh Anne Bentley, president of Leaders Education Foundation. "With a mission of Making Lives Better, Together, Leaders Education Foundation believes this program truly will fulfill that mission by giving students the assistance they need to reach their reading targets and have a mentor to support them on their academic journey."
One of the latest programs that The READ Team has instituted is the Words on Wheels or WOW Wagon. The WOW Wagon is a trailer that will be traveling to low-income areas in West Tennessee to give free books to children. One of the strategic keys to literacy is having books around the home for children at a young age to look at, be read to, and eventually to read themselves.
If you are interested in volunteering with The READ Team, please apply at thereadteam.org/apply-online-1. To donate books to the WOW Wagon, please visit thereadteam.org/the-wow-wagon. To learn more about the Read Team, please visit thereadteam.org.
To learn more about Leaders Education Foundation and to join or donate, please visit leadersgives.org. 
About Leaders Education Foundation
Leaders Education Foundation is a non-profit 501c3 organization based in Jackson, Tenn. Established in 2019, the Foundation allows community-minded citizens, members, and organizations to unite to make lives better together. The Foundation invests in the local community through scholarships, grants, and financial literacy resources to provide educational opportunities promoting lifelong learning for students, teachers, and our community.  For more information about Leaders Education Foundation, please visit their website.  
###